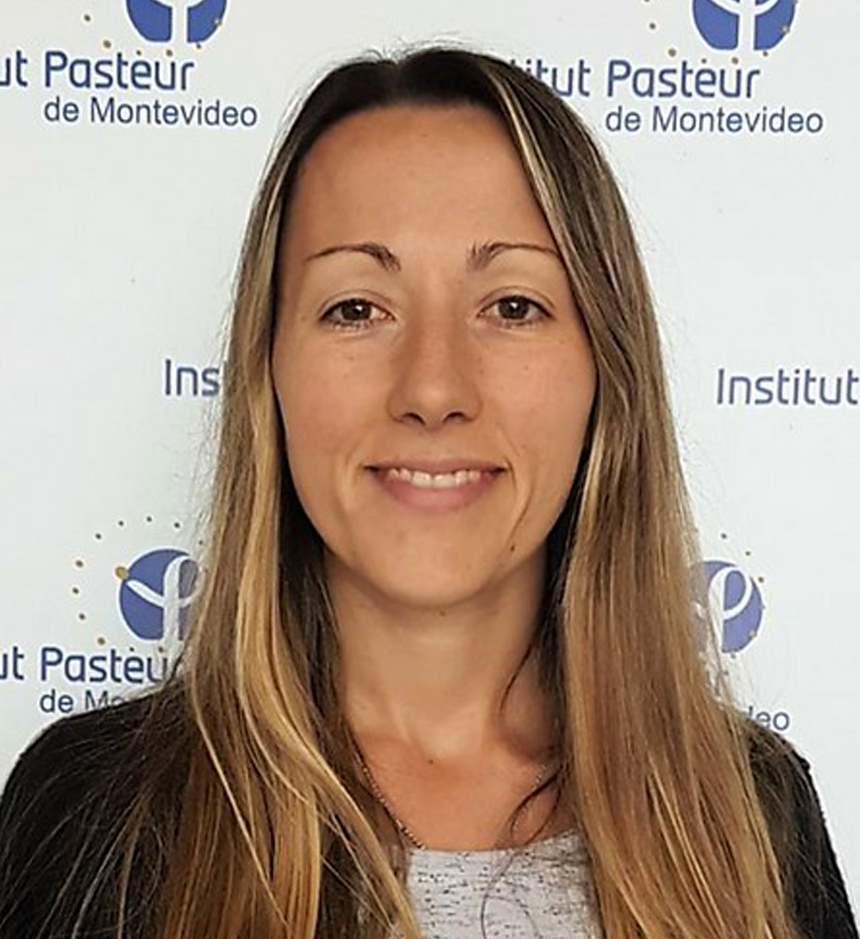 María Eugenia Francia, PhD
Laboratorio de
Biología de Apicomplejos
PhD en Biología Celular (Énfasis en Parasitología Molecular). 07/2013. University of Georgia. Athens, GA. USA. (2009-2013).
MSc en Biología Molecular, Microbiología y Bioquímica. University of Idaho, Moscow, ID. USA. (2008-2009).
Licenciatura en Biología Molecular y Bioquímica (B.Sc.). University of Idaho, Moscow, ID. USA. (2004-2007).
Apicomplejos
División Celular
Salud Animal
Biología Molecular
Transmisión Vertical
Manipulación genética
Biología Celular
Diagnóstico
Cabrera A, Berná L, Fresia P, Silveira C, Macias Rioseco M, Pritsch O, Riet-Correa F, Giannitti F, Francia ME*, Robello C*. (2019). Characterization of Four Novel Neospora Caninum Strains Reveals Underappreciated Regional and Worldwide diversity. Submitted. *co-corresponding author.
Berry, L., Chen, CT, Francia, M.E. et al. (2018). Toxoplasma gondii chromosomal passenger complex is essential for the organization of a functional mitotic spindle: a prerequisite for productive endodyogeny. Cell. Mol. Life Sci.
Marteil G, Guerrero A, Vieira A, Machado P, Mendonça S, Mesquita M, Villarreal B, Fonseca I, Francia ME, Dores K, Tranfield E, Paredes J, Pellman D, Godinho S, Bettencourt-Dias M. (2018). Over-elongation of centrioles in cancer promotes centriole amplification and chromosome missegregation. Nature Comm.
Zitouni S*,#, Francia ME*,#, Leal F, Montenegro-Gouveia S, Nabais C, Duarte P, Gilberto S, Brito D, Kandels-Lewis S, Ohta M, Kitagawa D, Holland AJ, Karsenti E, Lorca T, Lince-Faria M, Bettencourt-Dias M# (2016). CDK1/Cyclin B prevents unscheduled PLK4-STIL complex assembly restricting centriole biogenesis to one round per cell cycle. Curr Biol. 2016 Apr 20. pii: S0960-9822(16)30300-1. *First co-author #corresponding author.
Francia ME#, Dubremetz JF, Morrissette NS. (2016) Basal Body Structure and Composition in the Apicomplexans Toxoplasma and Plasmodium. Review series on Basal Bodies across Eukaryotes. Cilia. Feb 4; 5:3. #corresponding author.
Lopes CAM, Chandra Jana S, Cunha-Ferreira I, Zitouni S, Bento I, Duarte P, Gilberto S, Freixo F, Guerrero A, Francia M, Lince-Faria M, Carneiro J, Bettencourt-Dias M. (2015) PLK4 trans-autoactivation regulates centriole biogenesis in space. Dev. Cell. Oct 26; 35 (2): 222-35.
Suvorova E, Francia ME, Striepen B and White M. (2015). A Unique Bipartite Centrosome Coordinates the Apicomplexan Cell Cycle. PLoS Biol. 13(3): e1002093.
Lentini G, Kong-Hap M, El Hajj H, Francia M, Berry L, Claudet C, Striepen B, Dubremetz J-F, Lebrun M. (2015). Identification and characterization of Toxoplasma Nemo, a conserved cytoskeleton protein involved in maintaining the structure of the inner membrane complex. Cell Microbiol. Jan; 17(1):62-78.
Francia ME and Striepen B. (2014). Cell Division in Apicomplexan Parasites. Nat Rev Microbiol. Jan 2; 12(1) (by invitation).
Francia ME, Jordan CN, Patel JD, Sheiner L, Demerly JL, et al. (2012). Cell Division in Apicomplexan Parasites Is Organized by a Homolog of the Striated Rootlet Fiber of Algal Flagella. PLoS Biol. 10(12): e1001444.
Francia ME, Wicher S, Pace D, Sullivan J, Moreno S, Arrizabalaga G. (2011). A Toxoplasma gondii protein with homology to intracellular type Na+/H+ Exchangers is important for osmoregulation and invasion. Exp Cell Res. Jun 10; 317(10):1382-96.
Brooks CF, Francia ME, Gissot M, Croken MM, Kim K, Striepen B. (2011) Toxoplasma gondii sequesters centromeres to a specific nuclear region throughout the cell cycle. Proc Natl Acad Sci (PNAS). Mar 1;108(9):3767-72. Epub 2011 Feb 14.
Harrington JM, Widener J, Stephens N, Johnson T, Francia M, Capewell P, Macleod A, Hajduk SL. (2010) The plasma membrane of bloodstream-form African trypanosomes confers susceptibility and specificity to killing by hydrophobic peptides. J Biol Chem. Sep 10;285 (37):28659-66. Epub 2010.