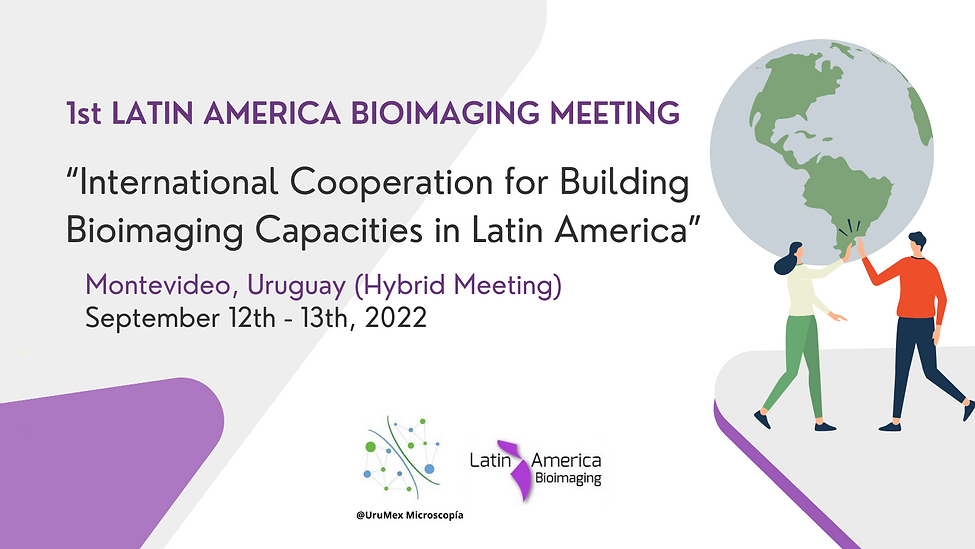 Latin America and the Caribbean comprise a vast and diverse region with significant disparities in scientific development and infrastructure. Nevertheless, it has a long history of regional integration and scientific collaboration. Based on a solid belief that international cooperation is essential to encompass the challenges of modern science, and in particular imaging techniques, Latin America Bioimaging (LABI) network aims to be instrumental for imaging scientists across the region to interact, share experiences and collaborate in expanding access to bioimaging training and technology.
LABI formation was catalyzed by a bi-national cooperation project between Uruguay and Mexico: "UruMex Microscopía", with the financial support of the International Cooperation Agencies of both countries (AUCI & AMEXCID), through the Fondo Conjunto Uruguay-México. Thanks to this project, this year LABI will hold its first "in person" meeting (also with remote participation) on September 12-13 in Montevideo, Uruguay. Being co-organized by UruMex Microscopía members and institutions, the central topic of the 2022 meeting will be "International Cooperation for Building Bioimaging Capacities in Latin America".
The main goal of the LABI meeting is to bring together imaging scientists from the region to promote integration, exchange experiences, and work together to coordinate actions for building imaging capacities in Latin America. This year, we will define LABI organization, governance and discuss its integration with other imaging regional and international organizations that will participate as special guests. Also, It will also serve to present some of the challenges that have been identified so far and communicate LABI's ongoing actions and programs for the next three years, that will be supported by the Chan Zuckerberg Initiative through the project: Building a Collaborative Network to Advance Bioimaging in Latin America.
For more information and inscriptions,

 

click here.