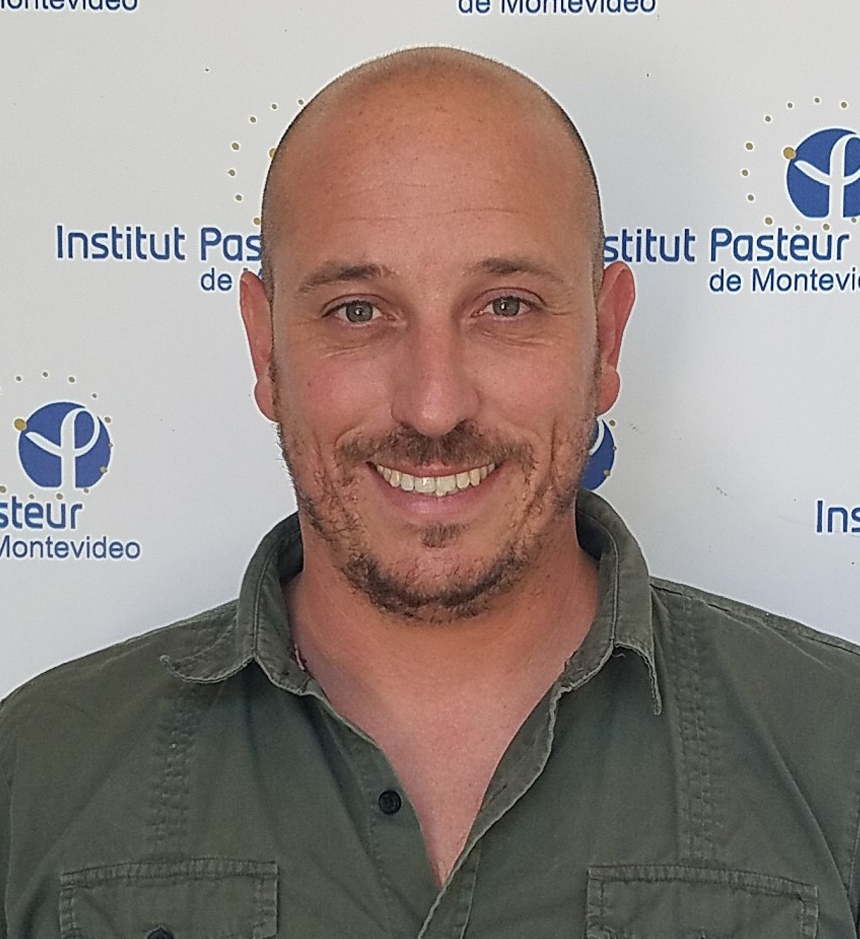 Experimental Evolution of Viruses Laboratory
PostDoc Researcher in Molecular Virology, Department of Virology, Institut Pasteur de Paris (2012-2018).
PhD in Biological Sciences (Emphasis in Cellular and Molecular Biology). PEDECIBA, Faculty of Science, UdelaR e Institut Pasteur de Montevideo (2009-2012).
MSc in Cellular and Molecular Biology, PEDECIBA, Faculty of Sciences, UdelaR (2006-2008).
Bachelor of Biological Sciences PEDECIBA Faculty of Science, UdelaR. (2001-2005).
Virology
Evolutionary biology
Experimental evolution of viruses
Genetic engineering
Cellular and molecular biology
Cifuente JO, Moratorio G. Evolutionary and Structural Overview of Human Picornavirus Capsid Antibody Evasion. Front Cell Infect Microbiol. 2019 Aug 20;9:283. doi: 10.3389/fcimb.2019.00283. eCollection 2019. Review. PubMed PMID: 31482072; PubMed Central PMCID: PMC6710328.
Danet L, Beauclair G, Berthet M, Moratorio G, Gracias S, Tangy F, Choumet V, Jouvenet N. Midgut barriers prevent the replication and dissemination of the yellow fever vaccine in Aedes aegypti. PLoS Negl Trop Dis. 2019 Aug 14;13(8):e0007299. doi: 10.1371/journal.pntd.0007299. eCollection 2019 Aug. PubMed PMID: 31412040; PubMed Central PMCID: PMC6709925.
Carrau L, Rezelj VV, Noval MG, Levi LI, Megrian D, Blanc H, Weger-Lucarelli J, Moratorio G, Stapleford KA, Vignuzzi M. Chikungunya Virus Vaccine Candidates with Decreased Mutational Robustness Are Attenuated In Vivo and Have Compromised Transmissibility. J Virol. 2019 Aug 28;93(18). pii: e00775-19. doi: 10.1128/JVI.00775-19. Print 2019 Sep 15. PubMed PMID: 31270226; PubMed Central PMCID: PMC6714818.
Henningsson R, Moratorio G, Bordería AV, Vignuzzi M, Fontes M. DISSEQT-DIStribution-based modeling of SEQuence space Time dynamics. Virus Evol. 2019 Aug 5;5(2):vez028. doi: 10.1093/ve/vez028. eCollection 2019 Jul. Erratum in: Virus Evol. 2019 Nov 19;5(2):vez052. PubMed PMID: 31392032; PubMed Central PMCID: PMC6680062.
Moratorio G, Vignuzzi M. Monitoring and redirecting virus evolution. PLoS Pathog. 2018 Jun 7;14(6):e1006979. doi: 10.1371/journal.ppat.1006979. eCollection 2018 Jun. PubMed PMID: 29879219; PubMed Central PMCID: PMC5991817.
Simón D, Fajardo A, Moreno P, Moratorio G, Cristina J. An Evolutionary Insight into Zika Virus Strains Isolated in the Latin American Region. Viruses. 2018 Dec 8;10(12). pii: E698. doi: 10.3390/v10120698. PubMed PMID: 30544785; PubMed Central PMCID: PMC6316622.
Moratorio G, Henningsson R, Barbezange C, Carrau L, Bordería AV, Blanc H, Beaucourt S, Poirier EZ, Vallet T, Boussier J, Mounce BC, Fontes M, Vignuzzi M. Attenuation of RNA viruses by redirecting their evolution in sequence space. Nat Microbiol. 2017 Jun 5;2:17088. doi: 10.1038/nmicrobiol.2017.88. PubMed PMID: 28581455.