Institut Pasteur de Montevideo participated in the European Union-Latin America and the Caribbean Business Round Table, which took place on Monday 17th July in Brussels, as part of the side events of the EU-CELAC Summit of Heads of State and Government.
Carlos Batthyány, Executive Director of the institute, was the only Uruguayan scientist invited to participate. He was a member of the panel called 'Enhancing health resilience', one of the seven round tables about different topics that were developed in this event organized by the European Commission, Development Bank of Latin America (CAF) and the Inter-American Development Bank (IDB).
Batthyány was invited to talk about what strategies could be implemented related to the fact that the region has historically failed to develop its own pharmaceutical products, and that it has remained as a customer of those produced in First World countries. Moreover, the Executive Director of the IP Montevideo discussed about the impact what was mentioned before has on Latin America's capacity of development.
On the subject, Batthyány encouraged decision-makers 'not to miss another industrial or technological revolution', referring to the knowledge-driven revolution of the 21st century.
'If we want our continent to develop and stop falling further behind, we must understand that it is essential to enter the knowledge economy', he said. To achieve this, he added that 'science, technology and innovation are key players in this revolution, which must be the real engine and driving force behind the sustainable development of countries. Policy makers must invest —which is not the same as spend— in this change'. The amount of money needed is 2 to 4 points of GDP, estimated the Executive Director of IP Montevideo.
Furthermore, Batthyány said that scientists 'must understand that the work does not end with the publication of the discovery, but that when these discoveries can be turned into real solutions to society's problems, they must go for it'. 'In this world, this can only be achieved by working in collaboration with the private sector, which can take advantage of this disruptive knowledge, protected by patents, to transform it into innovative products and solutions', he explained.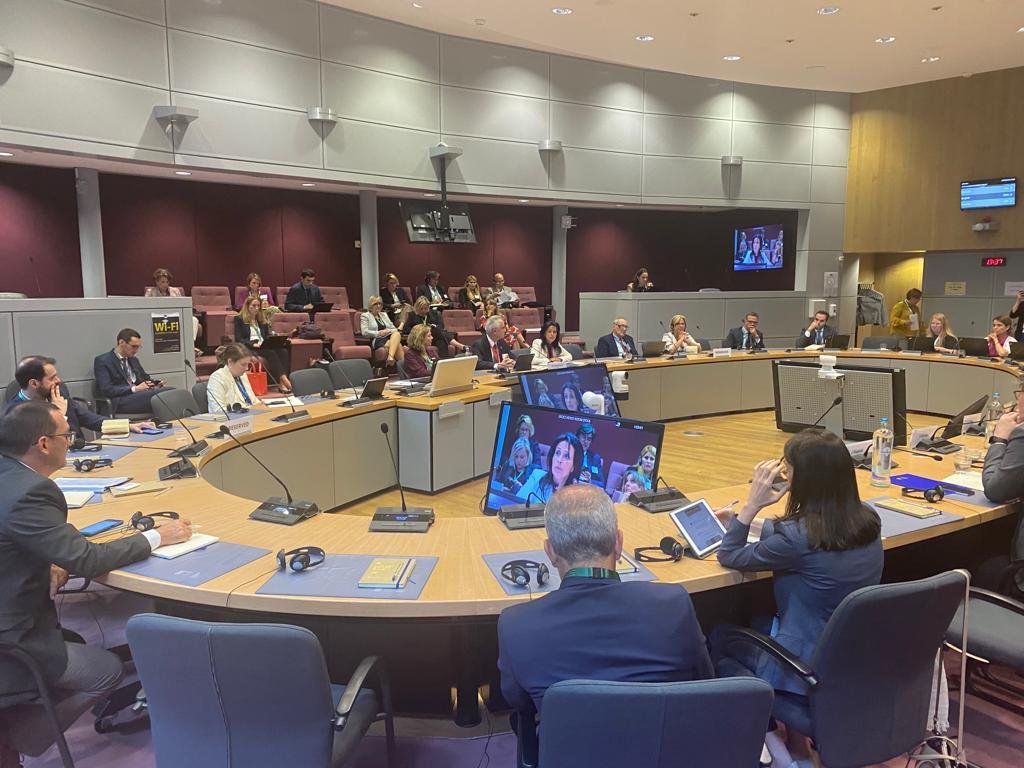 In this way, IP Montevideo is focused on promoting science as an engine for the country's economic development. Based on this idea, among other actions, Batthyány has conceived and promoted Lab+, a project with unique characteristics in Latin America, that seeks to position the institute as a pioneer in Uruguay in the valorisation of knowledge driven by private investment. LAB+ Venture Fund seeks to select and finance disruptive scientific projects, providing mentoring and advice to transform a scientific idea into a start-up that can create innovative products with an eye on the international market.
Batthyány, in particular, in addition to being a doctor and researcher, is founder and CMO of EOLO Pharma Inc. This startup is currently conducting the first clinical study (phase 1) in Uruguay's history for its first lead compound to prevent and treat obesity and type II diabetes.
The panel at the EU-LAC event included Laura Gutiérrez, Vice President and Head of Global Public Affairs and Corporate Policy at Sanofi Laboratory (France); Matthias Berninger, Senior Vice President of Public Affairs, Science and Sustainability at Bayer (Germany); James Fitzgerald, Director of the Department of Health Systems and Services at the Pan American Health Organization (PAHO); and Camila de Pamphilis, Director of Data and Patient Experience at Mamotest (Argentina).
Global Gateway
At the beginning of the meeting, the President of the European Commission, Ursula von der Leyen, presented the Global Gateway initiative. The following are excerpts from her speech:
We have the mutual interest in seeing Latin America, the Caribbean and Europe unleash the full potential. We share the common interest in seeing both our industries grow, local value chains develop, and more and more people rise into the middle class. We do not just want to trade together, but we want to thrive together.
Today I am glad to launch our investment agenda for Latin America and the Caribbean. We call it Global Gateway. Under the banner of Global Gateway, we propose to bring over EUR 45 billion of high-quality European investment to Latin America and the Caribbean. Over 135 projects are already in the pipeline, from clean hydrogen to critical raw materials, from expanding the high-performance data cable network to even producing the most advanced mRNA vaccines. But only together can we agree on sectors and value chains to prioritise, and on how we can best boost these investments with skills, with standards and with technical support.
We now need to hear from you during this Business Round Table about the sectors you want to focus on and the bottlenecks we need to address together. Not everything is easy, there will be hiccups and a bumpy road. But the investment is there, the political will is there.
Complete speech here.